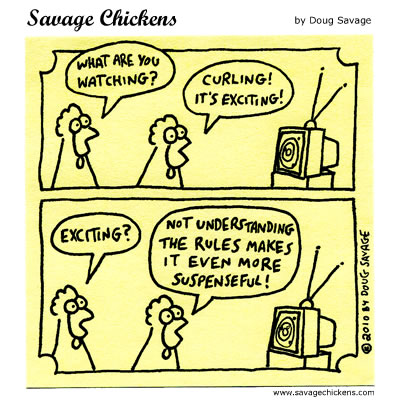 Every four years the Winter Olympics rolls around and introduces more and more people to curling. That's how many of our club members got interested in curling: we saw it on TV, wondered "what the heck is this?" and were strangely captivated by it. When we finally got the chance to get on the ice and try it for ourselves, we were hooked.
2018 brings another Winter Olympics, and no doubt with it more would-be curlers are taking notice (perhaps pulled in by the amount of press the Norwegian curling team's pants are getting). If you're new to curling, here are a few (of many) articles that will help introduce you to and explain the sport:

What the Heck Is Curling, Anyway? (Mashable)
Infographic explaining the players, gameplay, and scoring.
7 Facts And 3 GIFs: Hellooo Curling (NPR)
Morning Edition's story explaining curling.
What Exactly Is Curling? (Mental Floss)
This article will answer a lot of your curling questions, including "What's with the sweeping?" and "How do you keep score?"
If you're near southeastern Massachusetts and want to give curling a try, come to one of our Learn to Curl sessions, or contact us about joining our club. (And if you live elsewhere in the US, find a club near you.)