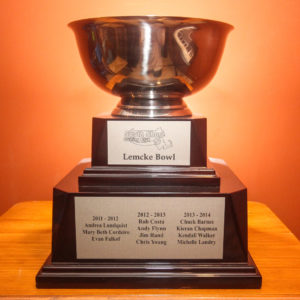 The top 8 finishers of our winter season played for the Lemcke Bowl on our final night of the regular curling season. The teams were:
Jim Chaplin
Steve Falconer
Jonathan So
Jane Sousa
vs.
Chuck Barnes
Evan Falkof
James Zuber
Dee Chaplin
It was a close game (closer than the final score shows) with Team Barnes winning the Bowl. Congratulations!
You can view more photos in our 2017 Lemcke Bowl Flickr album.
And thanks again to Chris Young for providing the pipes, for Walter Levenson for shooting the action photos and the parade video (below), and to all our members for making the 2016-17 season another success!